Hi All,
Firstly I would like to introduce myself. My name is Colin Kelly and I am the Secretary of The Diesel Electric Rail Motor Preservation Association of Victoria Inc. (DERMPAV). We are in essence a rail preservation group dedicated to the restoration of Diesel Electric Rail Motors. Yes! I am sure you are all wondering what that has to do with a bus forum!
Well! Our organisation, largely through the efforts of our treasurer at the time which was about twenty years ago acquired an AEC Regal Mark III, 41 seat, side cab bus. No.531 from the government. Of recent times, I have read the posts on this and other web sites about AEC 531, as we call the bus in our organisation. There has been a general lack of feedback to the questions posed and a lot of guess work about its existence. So, since AEC 531 has now come back under our organisations care I have decided to, through this forum to be its voice, keeping you all informed on the goings on surrounding AEC 531. I am doing this as the normal lines of communication and networking that would exist if we were a bus organisation will not be present so I am hoping to fill that void through this forum.
If you are interested, you may visit our website at
www.dermpav.net.au
but currently there is nothing listed there on AEC 531. It will however provide a general overview of DERMPAV.
We are not a bus organisation and therefore have no history of AEC 531 prior to it coming to us. So I will ask all the readers if they could assist us with any history information or photos they may have on AEC 531 when it was in regular service with the MMTB, if this could be passed on it would be much appreciated.
So with the above in mind I will take you on a potted journey as best as I know it, from when we acquired AEC 531 to the present day and our future intended use for AEC 531.
Our then Treasurer had decided that while he was interested in Diesel Electric Rail Motors he did not like travelling to our depot to participate in the restoration activities, and announced at a meeting that he had placed a submission on our letterhead paper before the government for an AEC Bus so he had a slice of transport history to look after. At the time our executive committee were not sure he would be successful with the submission. But talk within DERMPAV then, was that it could be used in conjunction with our Diesel Electric Rail Motor to provide a more interesting heritage tour. As is documented elsewhere our Treasurer was successful and AEC 531 was delivered to his property near Woodend. He informed DERMPAV that he had the bus and he would be looking after it, maintaining it, keeping it garaged at his property. At the time DERMPAV could not have hoped to house it securely. In allocating the bus the government placed conditions, our organisation was responsible for the maintenance of the asset and it had to be housed securely and displayed to the people of Victoria. On all accounts our Treasurer fulfilled these requirements, although maybe very loosely. But in any case it started DERMPAV's association with AEC 531.
It was now in this period which would span about twenty years that most of the questions and guesswork has been posted by interested readers that would either spot AEC 531 when it was out and about, or were trying to locate it during this time. During this period our now former Treasurers personal situation changed and he moved to a property near Elmore. While arranging for the bus to receive some maintenance by a mechanic in Elmore the engines injector pump and governor was unbolted by person or persons unknown and stolen. Now we are in the year 2011, and AEC 531 was inoperable and languished in a vacant lot in the township of Elmore. Our former treasurer did try hard to obtain a replacement injector pump to get AEC 531 operable again but was not successful. It was at this time that a price of $12,999.00 was placed in the passenger window of the bus this caused some concern with those that understood AEC 531 was part of the bus heritage fleet and brought AEC 531 back into mainstream attention. Numerous photos were posted with this sign in the window, later this would be replaced by a sold sign, but that was placed there by the mechanic to stop people coming in to his business asking about the disposition of the bus.
DERMPAV operated its Christmas break up on the 10th December 2011 and as is normal practice all members are invited, and it was here that our former treasurer informed me that he was no longer interested in maintaining or housing AEC 531. As of that night he was handing AEC 531's responsibility back to DERMPAV he also explained its current situation. I knew the situation DERMPAV had just been placed in and luckily the next day was our Executive Committee meeting so the matter could be discussed and a solution to AEC 531's future established.
But twenty years later DERMPAV was a much more matured organisation it had moved its home from Spotswood to Newport and DERMPAV could now hold AEC 531 securely. Now, AEC 531 was viewed a lot differently, the tours branch were consulted and stated they could think of a number of tours that AEC 531 could be operated on, like our Diesel Electric Rail Motors, AEC 531 would be operated 12 times per year. Most of the tours involved operating in conjunction with the DERMPAV rail motor, but some stand-alone tours were also envisaged. In the end it was decided we should investigate the overall condition of AEC 531 and make a final decision at our February meeting.
I visited AEC 531 at Elmore on the 29th December 2011 and took a number of photos of the bus to show them to the members at the February meeting, as none of the members had set eyes on the bus since its allocation. The buses general condition was not too bad, it showed signs of neglect and had not been maintained as well as it could have, the coachwork did show signs of rust and neglect all the window rubbers had perished but for its twenty years it was in reasonably good condition. At the next meeting I put up a slide show of AEC 531 at Elmore, by this time some of the members of DERMPAV had gone into overdrive and there was plenty of positive thoughts about AEC 531 to the extent that a decision was reached to retain AEC 531 and establish a restoration plan that will see AEC 531 returned to active heritage tour service with DERMPAV.
So with that decision made, it brought forward a couple of other problems, as I have already stated we are not a bus organisation, so no-one in our organisation was familiar with the maintenance procedures or the operation of AEC 531 on the Vic Roads Network, this was especially compounded by the fact that it is fitted with a preselector gearbox that requires special driving techniques. So not wanting it to languish in Elmore any longer than was absolutely necessary, our best option was to obtain the services of a person or persons with some experience in this type of bus. Here I would like to acknowledge the help provided by the Bus and Coach Society of Victoria who freely provided us with contacts and an endless amount of help and assistance. Through this process we were fortunate to be introduced to two gentlemen David Oaten and John Phillips who are still actively operating and maintaining a Regal Mark III bus. Both of these people have provided a yeoman amount of advice and assistance and offered their services during the recovery operation of AEC 531 from Elmore to our depot at Newport. DERMPAV's preference was to operate AEC 531 under its own power rather than have it towed or floated, so we set out and were successful in acquiring a replacement injector pump and governor. So now the day was set to recover AEC 531.
The 10th March fitted in with everyone so when that arrived myself and another member travelled to Elmore and started with the many tasks that lay before us prior to AEC 531 moving under its own power on the Vic Roads Net work. We poured water into the radiator to find it running out of a corroded alloy engine plate faster than we were putting it in, to remedy this an new plate was manufactured and re-bolted to the engine then the engine was successfully filled with water. All the windows were cleaned, tyre black applied to the tyres to spruce the bus up a bit. The spiders that had called AEC 531 home since October 2011 were evacuated from the drivers cab. John Phillips with David Oaten and his son Matthew arrived. They fitted and timed the injector pump, checked and adjusted the gear box brake bands, 3rd gear had worn considerably and was essentially inoperative, this was from the change speed pedal being used in the same fashion as a clutch pedal. So with all the adjustments and corrections made the Engine on AEC 531 fired into life. After air was pumped up both John and David carried out a myriad of other checks and then declared the bus fit to move to Newport.
So at 1:01 pm John Phillips moved AEC 531 again, under its own power, a running brake test was conducted to ensure the air brake was operable, once confirmed AEC 531 left the vacant lot at Elmore, joining Margret Street and into the car park next to the Elmore miniature railway, where a group photo was taken of those involved by Matthew Oaten. At 13:10 we all departed Elmore down the highway for Bendigo where the bus was to be refuelled. Our arrival at Bendigo caused a lot of interested points and stares from bystanders. We were even pulled over by the highway patrol who after carrying out a breathe test seemed to know more about the bus than we did. When we arrived at the petrol station and were refuelling AEC 531 a lady in another car asked about the buses history and stated that it was a blast from the past as she had commuted on these busses when she was living in Melbourne, and was glad that this one was going into preservation. We departed Bendigo moving down the freeway. It takes a long while to get to Melbourne at 65 k.p.h. but we eventually arrived at Newport at 6:50 pm in the evening, placing AEC 531 into the DERMPAV compound and shut the engine down.
Moving forward, DERMPAV will establish a restoration plan to complete the necessary repairs in an ordered fashion. At the end of this process we hope to have it repainted in its current colour scheme. I will post photos of AEC 531 as we move though this process in order to keep everyone updated. DERMPAV will be applying to the regulator to become an accredited bus operator so we are able to charge people to ride on AEC 531 in heritage service there by raising the necessary funds to keep it on the road. When completed it be available for hetitage tours and charters but more on this later. All the heritage tours that are operated by AEC 531 by DERMPAV will be listed on our web site at
www.dermpav.net.au
To support this post, I will post three photos.
The first is of our Diesel Electric Rail Motor with all the tour participants at Piangil during a recent tour, (we like rail motors), the other is of the group at Elmore that recovered the bus with AEC 531. The other is of AEC 531 progressing to Bendigo.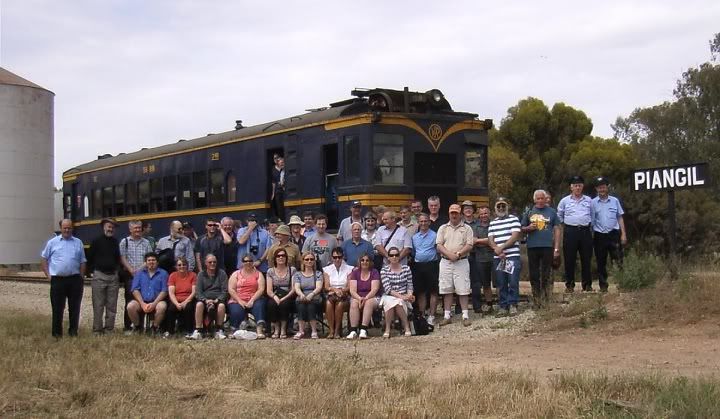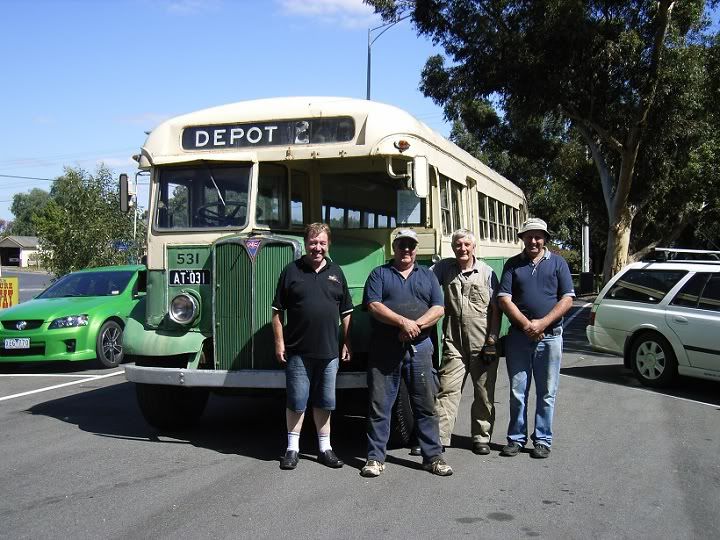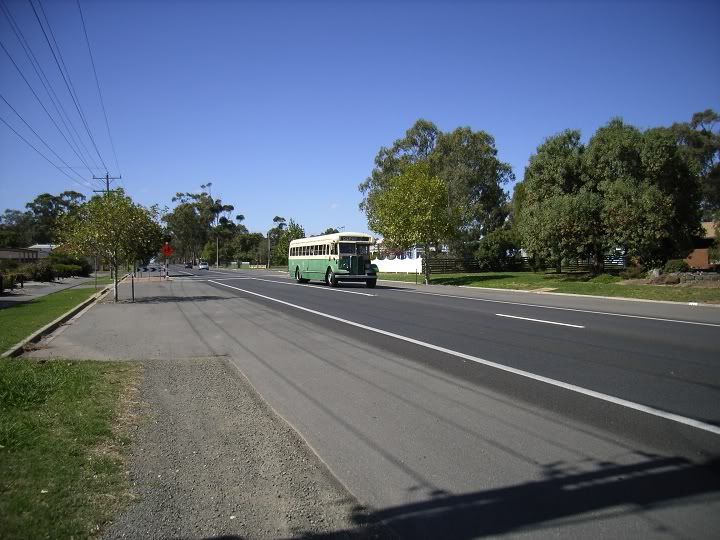 On behalf of the Executive Committee of DERMPAV I would like to extend our sincerest thanks to all those that have helped with the recovery or future restoration of AEC 531. I especially need to mention John Philips who owns AEC 592, and David Oaten who assisted on the day and the events leading up to the day of recovery. To Matthew Oaten for his assistance on the day with various tasks and items to prepare AEC 531. To Malcolm Morgan of the Sydney Bus & Truck museum for locating a replacement injector pump to enable AEC 531 to be made operational again. To Paul Kennely, Secretary of the Bus and Coach Society of Victoria and to Gary Davey and Tony Carson for assistance with parts and information.
Although we are only newbies to bus preservation, I feel that with all the support that was freely offered, AEC 531 will have a vibrant future within the heritage sector for many years to come and will continue to provide a heritage transport link to the way we once commuted around Melbourne.
So stay tuned and as they say.......Watch this space for the restoration photos of AEC 531. If you have any questions or would like to offer support please offer them through this forum, it might take a little time but I will try and answer them to the best of our ability.
Sorry this post is so long, and thanks for taking the time to read this.
Regards
Colin Kelly
Secretary
DERMPAV