Dyson's Peninsula Bus Lines was begun by Robert Dyson (no relation to L C Dyson) in 1922. Before WW2, Peninsula Bus Lines provided a service which co-ordinated with, and linked to, the rail service at Frankston, complete with through tickets. In July 1950, Dyson's Peninsula Bus Lines became a public company with tradable shares, and the Dyson part of the name disappeared. This public company went through many difficult years and went in and out of liquidation in the late 50s. Some of its school services were sold to drivers along with the vehicles. In 1971, an investment company, Carrick Investments, began buying shares in Peninsula and, by 1972, had a controlling interest. They then made a takeover bid for Portsea Passenger Service which was rebuffed. The investment company decided to get out of buses in early 1975 and made it known (to some government officials) that they would like a buyer or they would hand back their licences.
Ken Grenda registered a new and separate company, Imbiss Pty Ltd, on 22/8/75 and acquired Peninsula Bus Lines through it in 1976.
This is the famous
Landliner
built for Peninsula Bus Lines in 1946 by Roy Weber. It had two Ford V8 engines, one on the front bogie and one in the rear. All controls were hydraulically operated. After meeting operating resistance from most state authorities, including Victoria, it eventually went to the West Australian Government Railways but was eventually converted into a more conventional bus: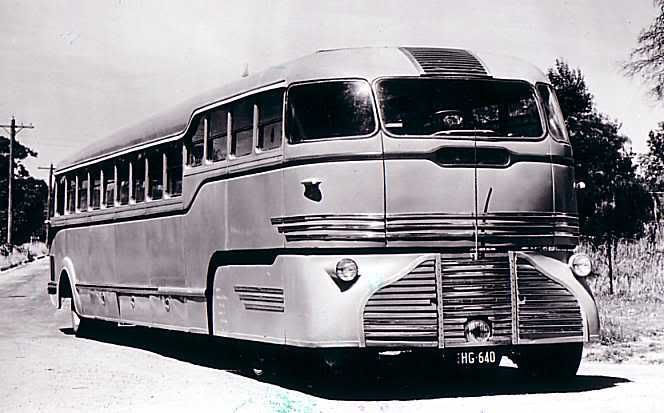 Roy Weber bodied many buses for Peninsula. This one, reg SM 292, was new in 12/50 to Peninsula with a GMC rear engine, eventually replaced with a Bedford engine, and was sold in 1970:
The CAC Bedford comprised at least half of the Peninsula fleet during the 50s and 60s. This flat screen SB was new in 2/53, reg GAG 061, and remained with Peninsula until 1968: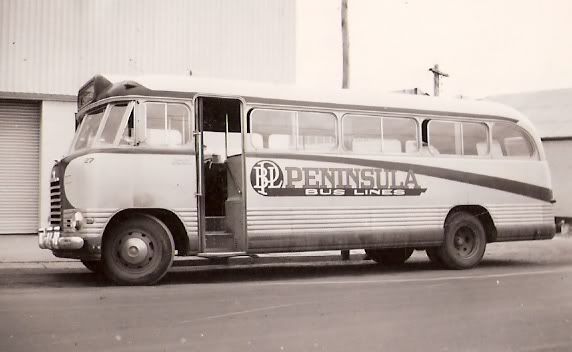 Another CAC Bedford was (is) Comair Bedford SB3, new 25/10/63, reg HVT 762, and is now preserved in the Grenda Heritage Fleet.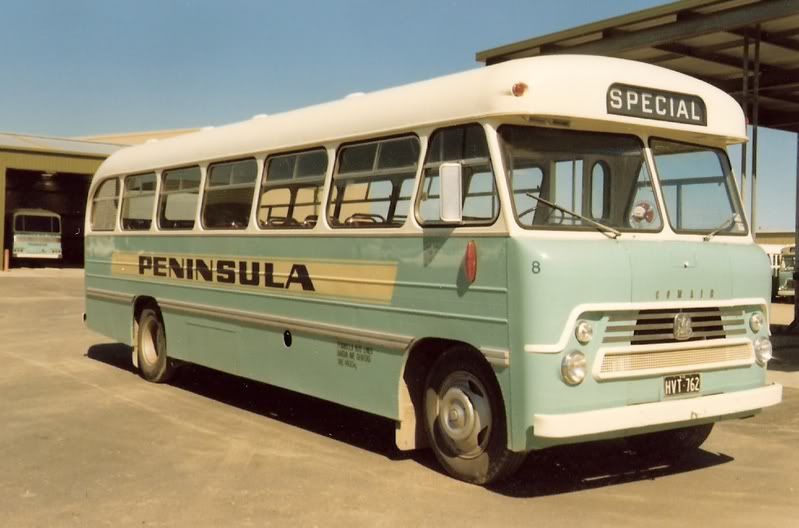 Peninsula Bus Lines acquired two Bedford VALs in 1966 to upgrade its service when there were moves to reinstate the Frankston to Mornington rail service. Despite this, the rail service was reinstated later in 1966 but subsequently withdrawn again in 1981. This VAL had a PMC body and Leyland 400 engine and was new 14/1/66, registered JKV 647. It was subsequently purchased by USBL on 10/73: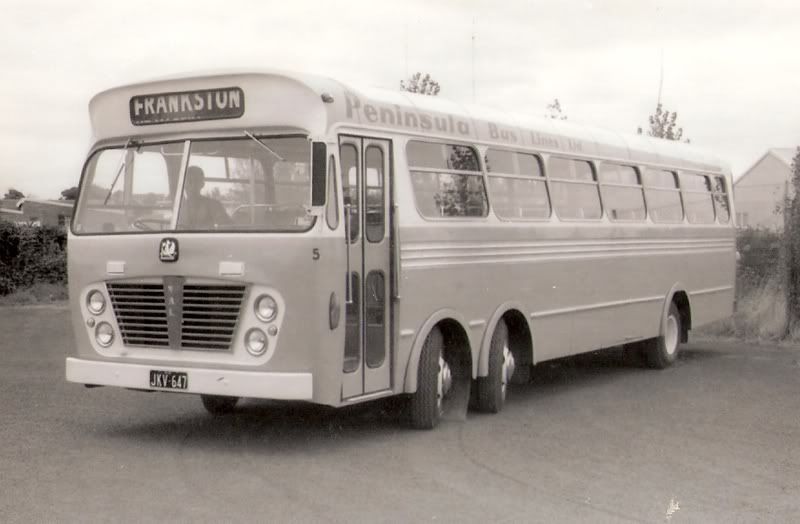 This was the second VAL purchased by Peninsula although it was new to Blue Line Tours in Sydney. It was new 31/5/66 and, after a brief period in Sydney, was acquired by Peninsula 12/1/67 and registered JRR 091:
JPY 324 was new to J P & T Moss of Hastings in 17/12/66 and is a Freighter Bedford VAM5. It was acquired by Peninsula BL in 1973:
This Ansair Bedford VAM70 was new to Taranto (t/as M.I.A Roadlines) in 7/73, and initially registered on interstate plates. It then went to Northern Coachlines for brief period and was registered IUG 613 before being acquired by Peninsula in June 1977: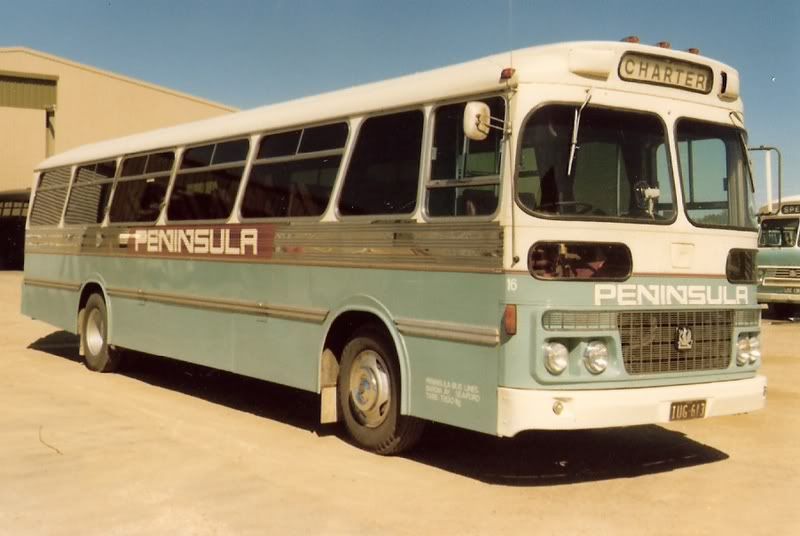 New to Peninsula was this Newnham bodied Bedford VAM 70 in March 1974, registered LTW 775: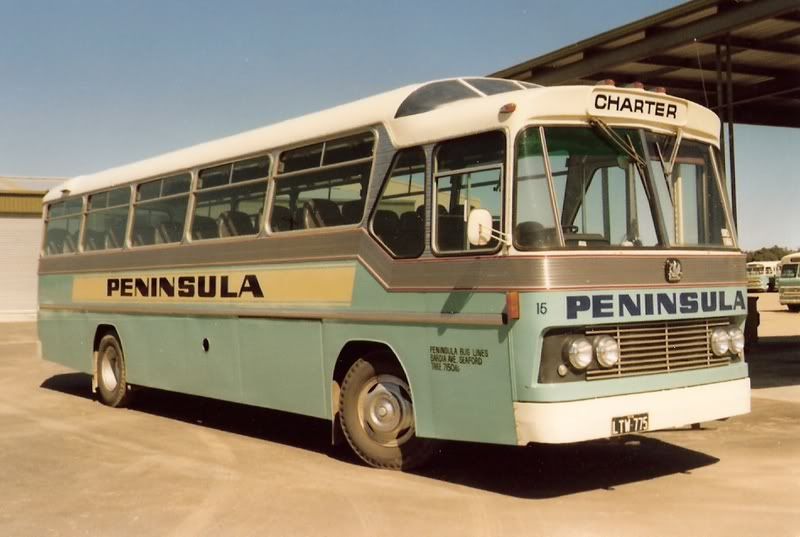 IXG 514 was an ex CAC bodied M.A.N SL200 demonstrator, new 20/2/76, similar to the 135 such vehicles that were supplied to Action in the ACT by CAC from 1975 to 1979: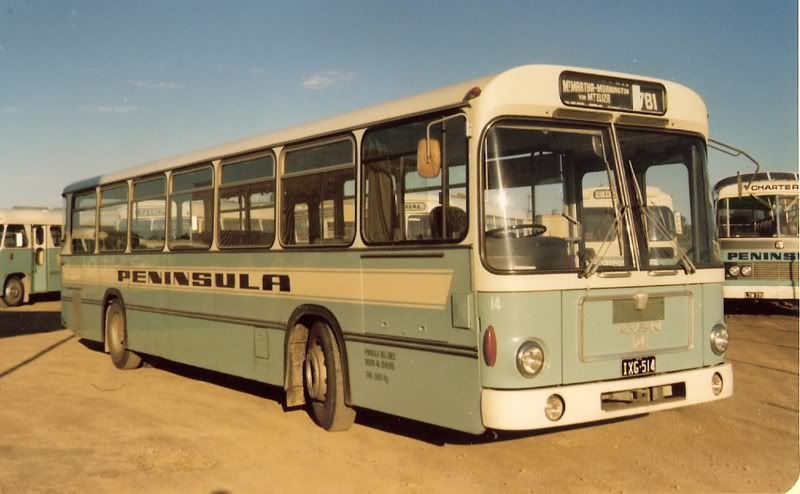 AOI 833 was the first Volgren to Peninsula (and the second full sized bus produced by Volgren) new in October 1979 on a Volvo B58-56 chassis.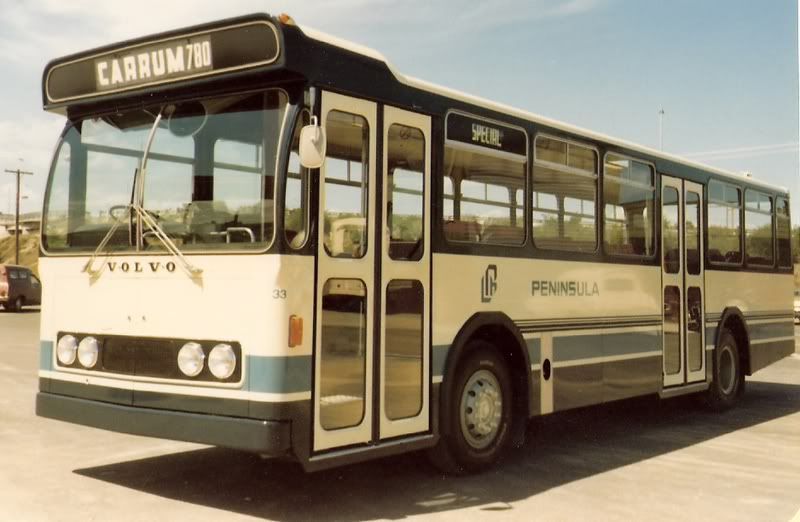 DYP 991 was a new Peninsula Volgren coach in August 1989 on a Volvo B10M chassis:
The photographs come from The John Masterton Collection.