I'm sure you're all wondering what Foundation Day is; well, it's a day held at my school which involves every student playing competitive sport for a whole day. There is a choice of 19 sports, and these range from Lawn Bowls, to Ultimate Frisbee (yes, there are normal sports in there too). Although this is a rich school, we're not rich enough to accomodate for all of these sports, nor provide private transportation; therefore, 1500 students gets dispersed on chartered buses across Canberra to go to play various sports. Therefore, this results in an influx (15-20) of buses in the school to transport all of those people. So, I decided to bring my camera this year; and this thread is the result of that.
This thread is primarily of Transborder Express (TBX) Coaches that have been chartered. Something very different to the usual blue and orange pictures usually found in the Canberra Region.
Here is the bus to and from Pitch and Putt; seen with a row of buses behind the vehicle. It is a CC bodied Irisbus, MO-165.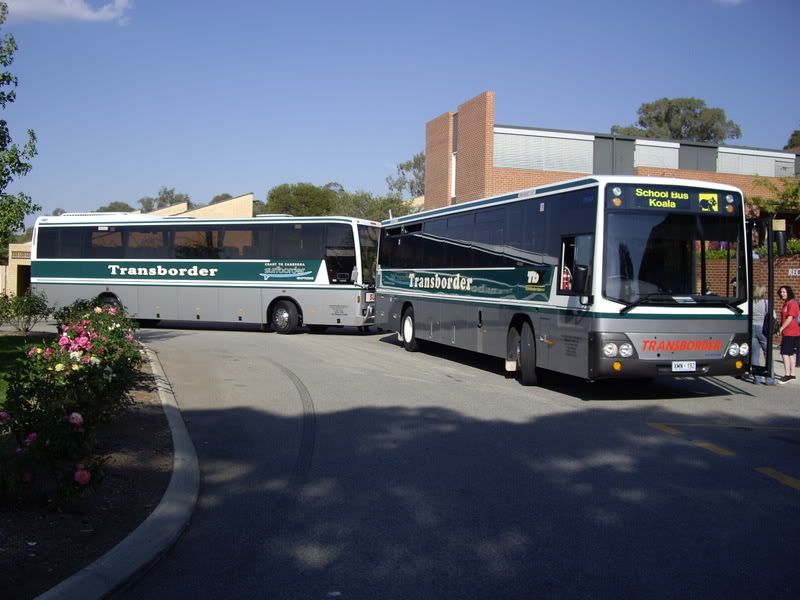 A CC bodied (Volvo?) is parked infront of a "Surfboarder" coach waiting for students to disembark.
Another CC bodied mystery-bus poses for a photo, still containing a SA number plate.
Scania K93 MO-53 is ready to depart on school bus duties.
Buses sit around the Turning Circle; with TBX SA XMN-192, CC bodied behind 2 Keirs buses.