1.The clean looks and smart livery made the
PD4106
a stand out on Australia's highways in the early 60s: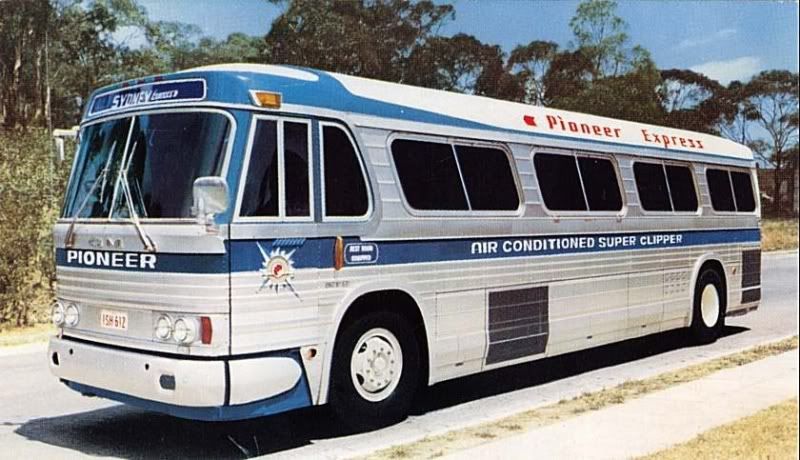 The
PD4106
, like its Pioneer predecessor the Flxible Clipper, was light years in front of any local competition. This, however, did come with a significant price tag. A
PD4106
was about £30,000 (including £3000 for RH drive conversion) compared to a locally produced coach costing about £10,000 (in 2010 dollars, those figures are $720,000 total cost, $72,000 for RH conversion and $240,000 for the local product). Anyone who travelled in a
PD4106
thought it was worth it. This coach, like the Flxible, pushed the regulatory boundaries. In this case, it was its length, 35 feet, and its place of origin. In those days, there were currency restrictions. Importing from the US was a no-no. Worse, the local transport regulators, particularly in Victorian and NSW, were aghast at the thought of these "long" buses. To be fair, the roads in those days were pathetic. Today's roads are close to perfection in comparison. Anyway, Sir Reg Ansett (who owned Pioneer) strongly influenced the government of the day to have the US dollar restrictions lifted and then received "special permission" to run the
PD4106
on highways. Of course, none of Sir Reg's competitors, or would be competitors, were going to be able to purchase any of these buses. Sir Reg wanted more competition -for him- but not for his competitors, something that would bite him in future years.
Thirty five PD4106s came to Australia in four tranches, with the dates to service as described:
623 to 632 inclusive, 11/61- 1/62, 10 coaches, which became Pioneer 623-632
1219 to 1226 inclusive, 9/62 -10/62, 8 coaches, which became Pioneer 633-640
1240 to 1251 inclusive, 10/62 - 12/62, 12 coaches, which became Pioneer 641-652
2636 to 2640 inclusive, 8/64 -9/64, 5 coaches, which became Pioneer 653-657
Eight further
PD4106
coaches were purchased second hand from Greyhound USA, seven in 1970 and one in 1972. This was an interim measure when Pioneer was awaiting a decision on 40 foot coaches operation in Victoria and NSW from the regulatory authorities. They were numbered 658-665.
The GM nomenclature was relatively straightforward. For the
PD4106
, the P stands for "Parlor Coach", the D stands for "Diesel", the "41" stands for the seating capacity (without toilet) and the "06" is the actual model number. It was built in the US from March 1961 to about June 1965, and 3,227 came off the production line. It was powered by the Detroit Diesel 8V-71 which had enough power for the coach as well as the Freon compressor for the air-conditioning. Until then, most coaches with aircon required a separate engine for this purpose. It is a fully monocoque construction (no chassis). It came with a four speed gear box.
2. Here is an impression from the US GMC sales staff of how the
PD4106
would look prior to the arrival of the first (the Ansair badge never made it to the final version). The coach was almost perfectly symmetrical, so they just flipped the image: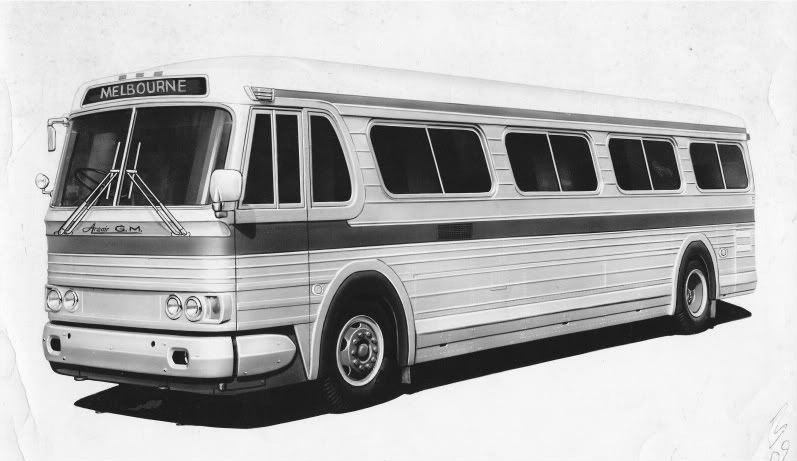 3. Smoking was still allowed on public transport in those days, and interstate coaches were no exception:
4. Opening the window was one way of clearing the smoke, but not recommended whilst at speed on the road: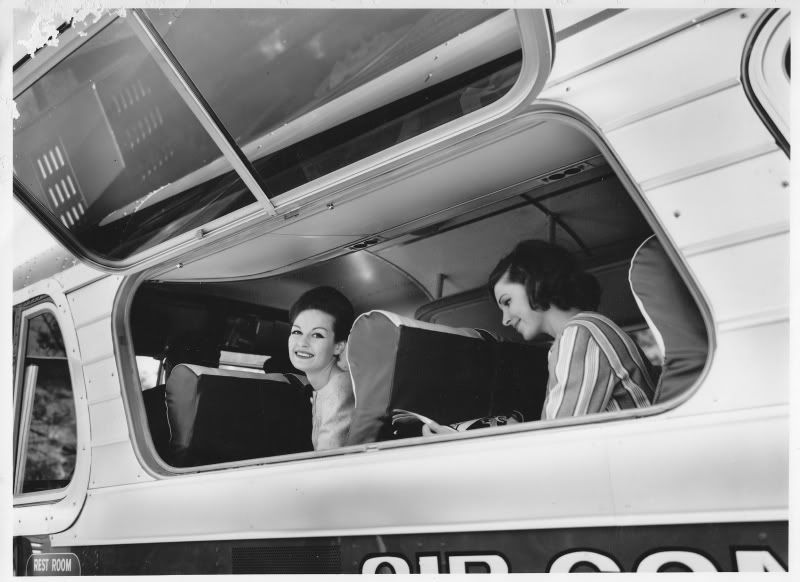 5. A rear shot of a
PD4106
contrasts the window treatment of it and its successor the PD4107: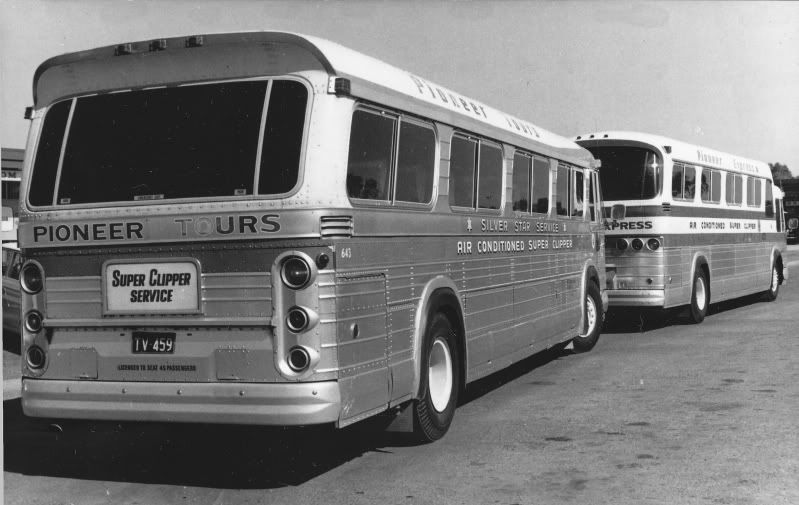 6. The RH drive conversion was undertaken at Ansair's Essendon Airport factory:
7. Three PD4106s, the one on the left is one of the 8 second hand vehicles imported in the early 70s and distinguishable by the different GM badge.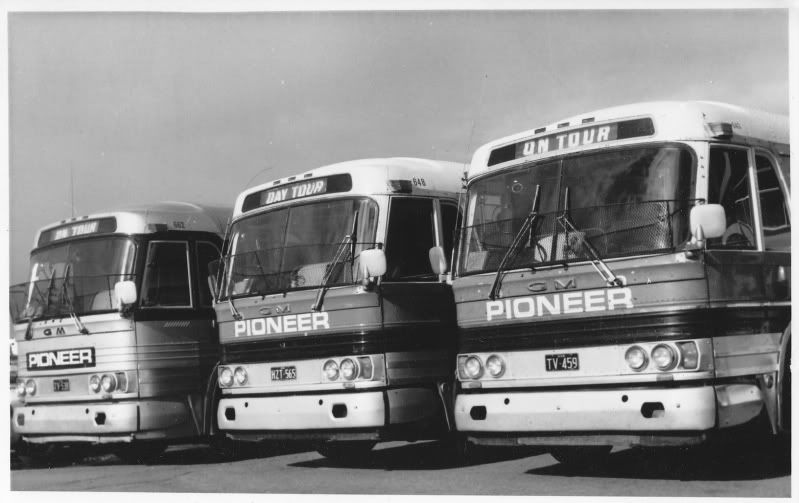 8. For dusty and animal prone roads, a bull bar and wind deflectors were installed on a number of units: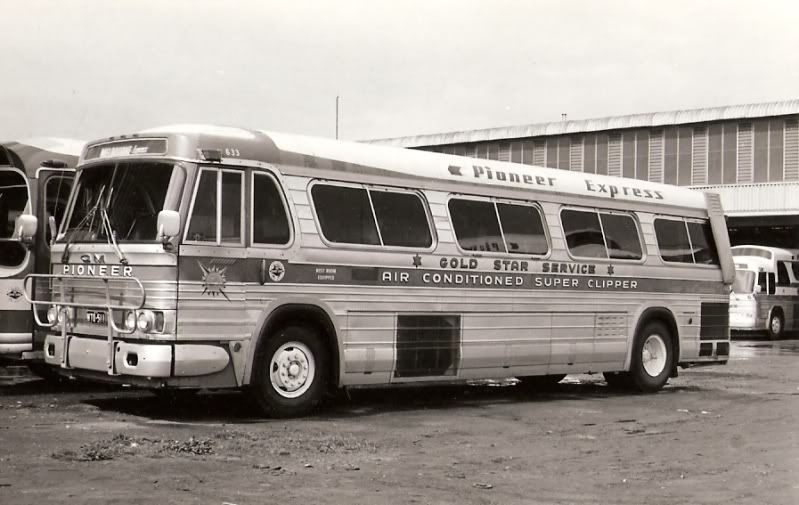 9. The
PD4106
cascaded to day tour work over the years and some had the toilet removed and more seats installed. This one was new 10/62 and is shown in possibly its last livery for Ansett Pioneer: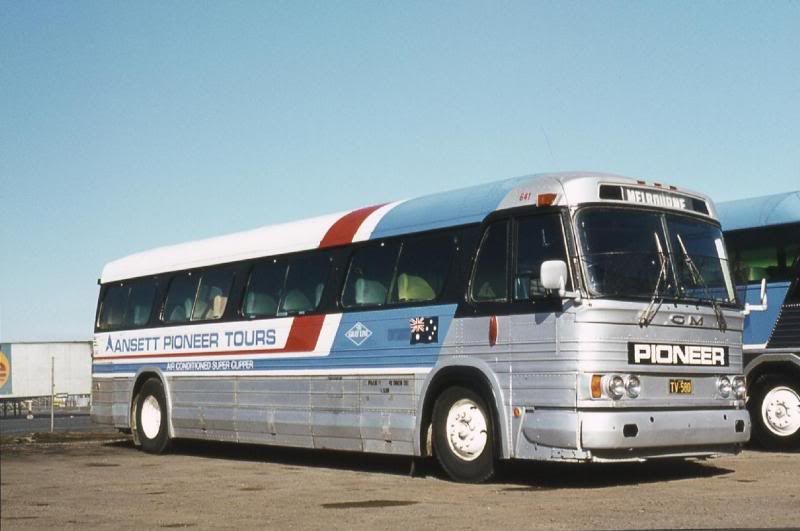 10. Finally, a
PD4106
new 1/62 and a GM Scenicruiser with the relatively "gutless" Toroflow engine from 5/67, shown side by side:
To my knowledge, no
PD4106
has been restored to its former glory, although Gary Driver has one as his next preservation project.
The importation of these coaches had an unintended consequence on the local industry. No doubt, in 1961, there was simply not a local manufacturer capable or interested in building these sorts of vehicles, to the standards required anyway. But there were those who learned quickly, and set about adopting some of the principles of the
PD4106
for a local product, most notably, Alan B Denning.
The photographs: Pics 1-4 and 6 are official Ansett Pioneer pics, Pic 5 comes from the Paul Nicholson Collection, Pics 7 and 10 come from the Ken Magor Collection courtesy of the BCA(NSW), Pic 8 is by Bruce Tilley and Pic 9 is from the Andrew Potts Collection.