I will begin this part of the CAC bus story, with a little history of Bedford. It begins with Vauxhall Motors.
Originally named Alex Wilson and Company (after its founder) and situated in Vauxhall, an area around South London, this company, which built pumps and marine engines, was established in 1857 and was soon renamed Vauxhall Iron Works. With the development of automobiles and the movement of the company into this business (1903), it was renamed again in 1907 as Vauxhall Motors having previously moved its main plant to nearby Luton. It was acquired by General Motors in 1925 and expanded into the manufacture of commercial vehicles. Luton was part of the county of Bedfordshire which led to the commercial range being named, "Bedford". GM remained the owner of Vauxhall Motors until the
Global Financial Crisis
(amongst other things) brought GM to bankruptcy. As part of the restructure and sell off of assets, GM announced in mid 2009 that Vauxhall Motors was to be sold to a Canadian company, Magna International. However, it has been reported (4/11) that this deal has fallen through and that GM may retain some or all of Vauxhall as sales pick up.
In the early 60s, it was clear that operators were looking beyond the forward control buses that had dominated the medium chassis market during the 50s both in Britain and Australia. Forward entrance buses and coaches were being built on a variety of chassis such as Albion. The Bedford SB was still selling in large numbers, but an increasing number of operators were having alterations done to the SB chassis before the body was built.
In Australia, this was particularly the case in NSW, with a number of forward entrance conversions appearing from around 1960. It would be true to say that the chassis manufacturer, Bedford, and its distributor here, GMH, were not enthused with the idea. CAC's construction methods, being production line in design, certainly did not allow for chassis variation. But the wishes of operators could not be ignored.
In 1965, Vauxhall Motors produced a medium size front entrance chassis to supplement the SB called the VAM (VA series medium length). With a wheelbase of 193 inches (4.9metres) it, like the VAL (VA series long) developed two years earlier, had an 80 inch front overhang to allow for the entrance door. (NB. The VAS was a VA model "short" series.)
In Australia, the VAM was offered with a choice of two engines, both 6 cylinder front vertically mounted; the VAM3 with a Bedford 300 cubic inch petrol engine and the VAM5 with a Bedford 330 cubic inch diesel. The chassis became available here in 1966, and CAC announced its version in February of that year in T &BT. Here is an artist's impression of the VAM as seen in an advertisement in Truck & Bus Transportation: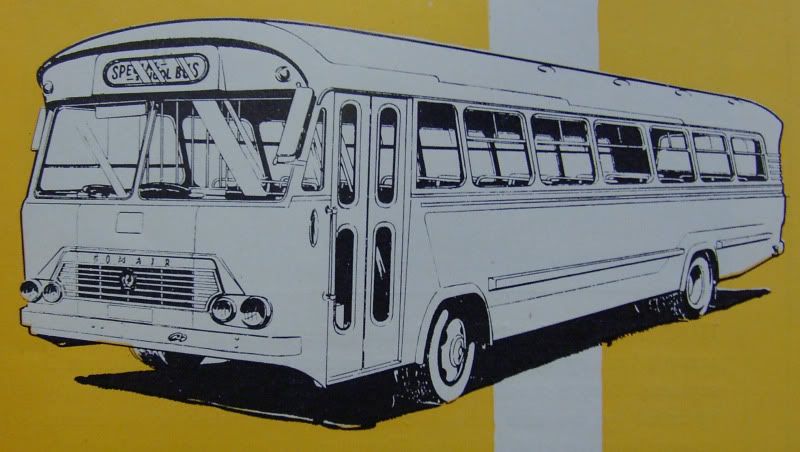 The first production vehicle (a VAM5) went to Northern Bus Lines in July and the second to Willis Bus Service, JNR 151, 1/8/66: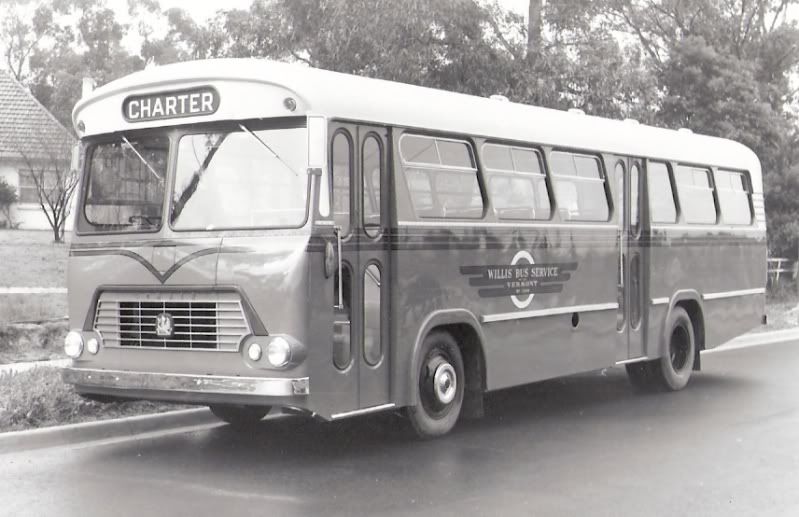 The VAM was also available as a coach, this was a VAM3 for Grenda's registered JPP 764 in 11/66: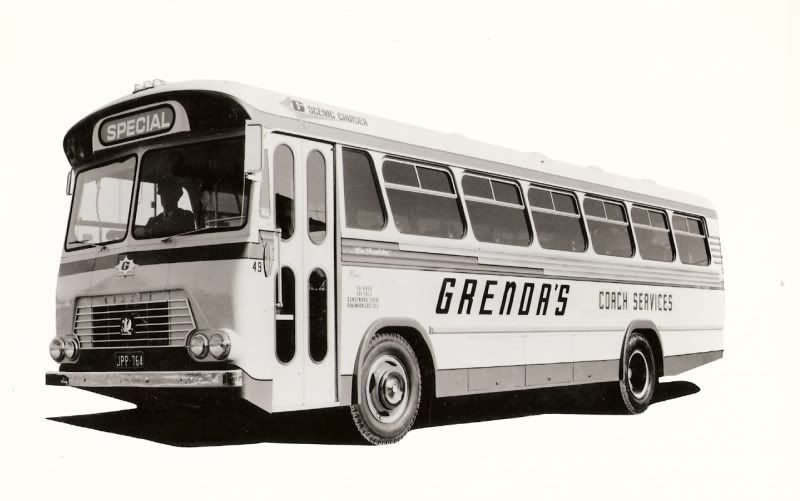 In 1967, Vauxhall Motors released a VAM with a larger 466 cubic inch Bedford diesel, designated as the VAM70 and was available in Australia in early 1968. The VAM3 had an option of 4 or 5 speed synchromesh gearbox, whilst the diesel engine models had a 5 speed gearbox as standard.
With the advent of the VAM70, Ventura Bus Lines placed 9 into service in 1968/69. The first was KBG 156 registered in 8/68:
Other body builders in Australia began to offer the VAM with an extended wheelbase and even with a repositioned engine at the rear. Whilst CAC did not ever offer the latter, it did eventually offer an extended wheelbase VAM from late 1970. It meant a 36 foot (11 metres) body rather than the standard 33 feet (10 metres). Few were built, all were single door coaches or school buses except for a couple of two door versions, one to Frankston PS and the other to Southland Bus Service. Brien's, Reid's and Thomas Tours in Adelaide were all purchasers of the longer coach version.
Here is the Southland Bus Service vehicle new in November 1971. It has been preserved in the Southland colours by Grenda's:
Brien's Comfort Coaches was the major purchaser of the extended wheelbase VAM with 4. They were the first purchaser (No.15, KTX 026, 19/11/70), and they also took the only two underfloor VAMs produced, both with the longer body. Here is the first UF VAM, LGN 427, at handover in September 1972: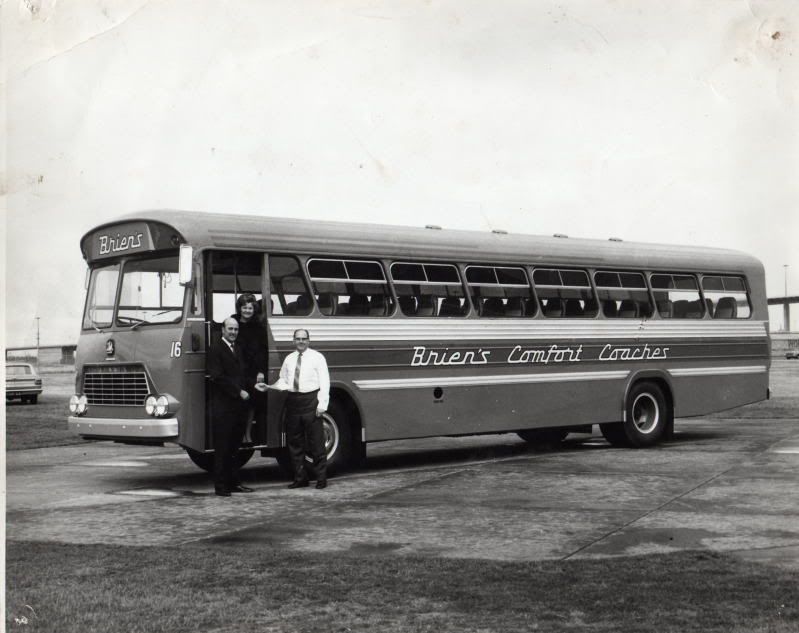 One oddity in the VAM production run was the placing of the VAM body type on a Ford R192 chassis. It was advertised by Bus Sales to be the first of many, however, it remained unique. It was new to Hoffman of Horsham in 3/71 and registered as KVU 263:
In all, about 200 bodies on VAMs were built from 1966 to 1973, with the final VAM going to Brien's in June of 1973. Grenda's took 27, the Sitch group 15, Peninsula Bus Lines had 10 and the 9 to Ventura as mentioned above.
Four examples of the VAM have been preserved, three by Grenda's and one by John Usher (formerly Invicta). Here are some shots of those which show the CAC rear window style which premiered with the VAM as well as some inside views: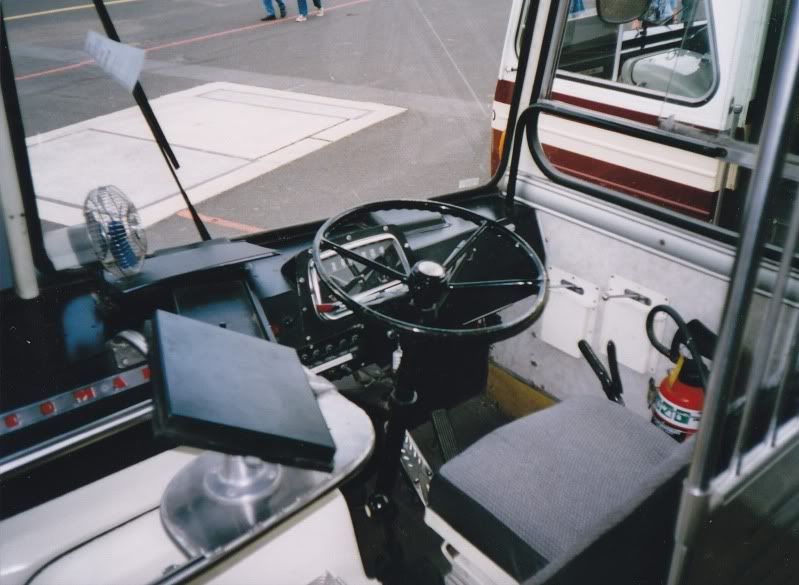 The days of the Bedford medium duty chassis for suburban and coach operation were numbered and, as we will find out in part 7, for CAC bus building as well.
(The photographers: pic 1 from T&BT, pics 2 and 4 from Bruce Tilley, pic 3 from Grenda's, pics 5, 8, 9 and 10 from Paul Kennelly, pic 6 from CAC/Bus Sales and pic 7 from Andrew Potts.)