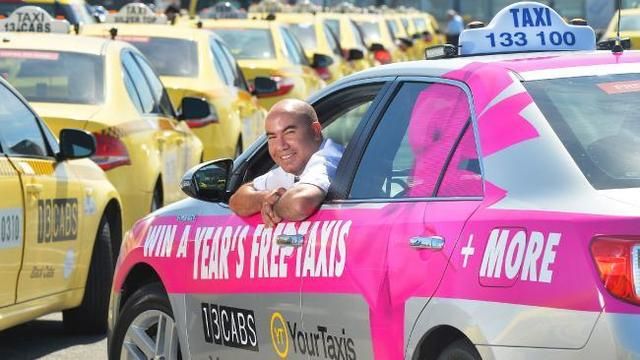 Above: A 35 year veteran of the taxi industry, driver Adel Smida poses in one of the new "Pink Ribbon" promotional taxis which have hit the roads in Melbourne from today.
In what can only be described as a stunning about face, the Victorian taxi industry lead by the Victorian Taxi Industry has conceded that they have failed to provide a reliable and adequate service to its customers as they launched a range of industry changes today. After months of intense fighting with offshore newcomer Uber, the VTA has admitted the campaign against the San Francisco based multi-national had failed to evoke the sympathy of consumers who have increasingly become disillusioned by poor service standards and a lack of reliability when attempting to book traditional taxis.
Speaking to the media today, Victorian Taxi Association CEO, David Samuel declared it was time for the taxi industry to focus on itself and win customers back. In a range of sweeping new measures, taxi smartphone apps have been given a makeover to provide consumers with car number, the taxi drivers name, and estimated time of arrival and the cars current location on a map, mimicking the features that Uber already provides on its customer app. Mr Samuel also announced a major upgrade in driver training will also be rolled out to better train drivers in customer service skills, personal hygiene and city knowledge, with the VTA acknowledging that these factors had contributed to the wave of people ditching taxis in favour of Uber. A public relations campaign has also been launched including a competition offering the winner a years supply of free taxi rides, a brand new website in which consumers can rate drivers and leave reviews, and more direct lines of communication between customers and taxi operators. Numerous taxi companies including 13CABS, Silver Top Taxis and CABIT are on board with the industry overhaul. As part of the launch today, hundreds of Melbourne taxi customers were treated to free surprise rides today in a fleet of specially marked "Pink Ribbon" taxis.
Speaking to Nine News today, Uber Melbourne General Manager Simon Rossi didn't wish to comment directly on the taxi industry initiatives but stated that any positives provided to commuters in Melbourne as a result of competition can only be a good thing for commuters.
On the subject of Uber, Mr Samuel says the VTA is still in discussions with the State Government around the issue of legislation however reinforced that the industry was now putting much more energy into winning customers back by improving the consumer experience for those who use taxis.
http://www.3aw.com.au/news/ross-and-john-learn-taxis-change-tact-in-uber-fight-20151108-gktwgs.html
Above: Victorian Taxi Association David Samuel talks to 3AW's Ross & John Breakfast Program about industry reboot.
TOP 5 CUSTOMER COMPLAINTS ABOUT TAXIS
1. Short Fare Refusal
2. Taxi Drivers talking on phones while transporting passengers.
3. Drivers not knowing where they are going.
4. Personal Hygine/Presentation of drivers.
5. Condition/Cleanliness of taxi.