In 1955, Bedford increased the wheelbase for the SB to 216 inches, enabling a longer body to be fitted as standard, with a normal transverse seating pattern accommodation of 35. It was marketed here as "the Big Bedford". As well, the petrol version was given a new chassis name, the SB3. In Britain, the Perkins engined diesel version (found to be unsatisfactory because of continuing problems with the Perkins R6 engine) was replaced with Bedford's own diesel engine in 1957, the SB1. Who knows why the "1" came after the "3" or indeed, what happened to the "2", but there you have it. It was to be confounded by a GMH body style nomenclature, as we shall see.
In Australia, as we saw in Part 2, the last CAC "flat screen" was registered (to Ventura) in October 1957. Three months earlier, the first "curved screen" was registered to Sitch (body number M35-2 and I've never found out what the "M" stands for). This is the first picture:
The nomenclature issue arose out of GMH describing the new bus as the 7SB, or even the SB7 as we will see in Part 4. No explanation has been given for this, but if I count up the number of different types of bodies that CAC produced and were marketed by GMH till that time I sort of get 6 (4 OBs and 2 SBs, discounting the small window version as a separate version). But again, who knows? Anyway, the bus was produced at a fair clip - 2 per week. Here is a Latrobe Valley Bus Lines example (body number M35-113), delivered in May 1958:
The bus was still made by CAC for GMH, with no CAC badge visible. However, in 1959, GMH decided to put more of its marketing effort into the new Holden cars and so decided to pull out of marketing buses. The Bus Proprietors' Association of Victoria [BPA (Vic) then BAV] realised that this would leave an enormous gap in the supply of buses to Victorian operators, as well as the supply of parts that the many operators required who had already purchased the CAC product. The Bolte Victorian Government also got involved, but they were in a difficult position. On the one hand, there was the pressure referred to above. Whilst CAC still earned most of its income from aircraft manufacture, bus production was a steady cash flow for them, so they were not keen to see the operations cease. On the other hand, Reg Ansett was keen to see his Victorian based company grow and prosper. In 1959, Ansair had purchased Symons & Fowler in a bid to capture more of the Victorian market. The demise of GMH/CAC would be a boon to the Ansair company. After much toing and froing, the BAV decided to enter into an agreement with CAC for the continued supply of the CAC SB3 to be marketed by a BAV off shoot, to be called Bus Sales. It was to prove to be a great business decision, for the BAV and CAC anyway, if not Ansair. It has been said that, at this stage, Henry Bolte and Reg Ansett did not see eye to eye, whether this was true or had anything to do with the final decision probably only they know - and they are both long dead! In the meantime, 217 of the GMH marketed version had been produced including this coach version which went to Grenda's Bus Services in 1958: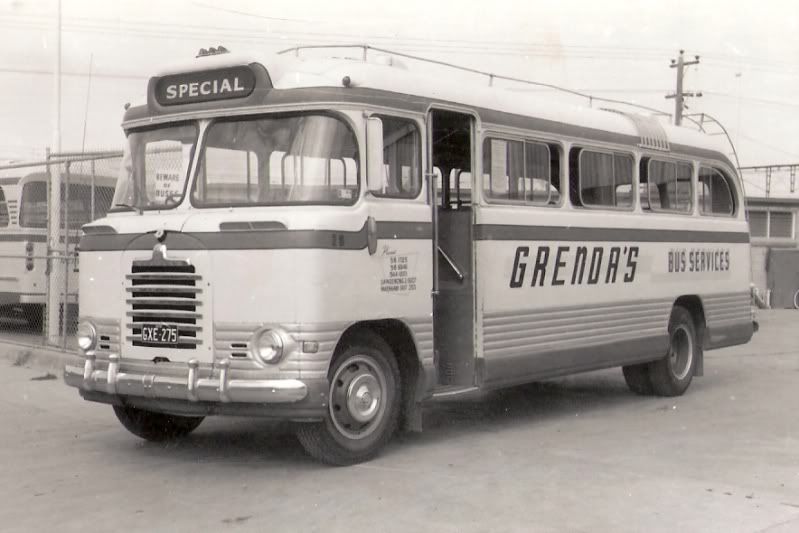 One of the corollaries of GMH pulling out of the marking arrangement was that the Bedford SB chassis was now available to all body builders, not just CAC as (largely) before. So,in the hiatus referred to above, lasting about six months, Ansair was to be the beneficiary with many Ansair bodied Bedford SBs entering service with Victorian operators, for the only time in its history (see the 2008 Special Edition of Australian Bus Panorama on the history of Ansair for details). The last GMH version was sold to Granger's Bus Service in May 1959. More than six moths later, the first Bus Sales CAC SB3 was registered to Wedge Bus Lines of Cobden. The bus was largely the same in design but with a few modifications. First, the door was now available to be air operated by a pneumatic system rather than via the traditional CAC manual lever( which I liked). Second, the near side window forward of the doorway was a sliding version (like the flat screen) rather than a solid pane - better ventilation. Other than that, the vehicles were the same. The first metro version, and second produced, went to Grenda's Bus Service in November 1959 ( M35 - 219):
This CAC body had less variations than any of its predecessors - no two door variant (like the OB and SB) and no variation in length (like the OB). The only operator's specifications allowed were the fitting of the jack-knife door, the seating and the provision of a boot and access door in the rear. One seating seating variation was the addition of an extra seat set next to the driver, and Ventura received two of these from their 7 new SB curved screens (no prizes for guessing that this was where yours truly wanted to sit). Here is number 38, registered in January 1960:
An unusual buyer for the CAC product was W Sinclair & Sons who also bought two in 1960, but sold them within seven years. Here is their first:
As mentioned, there was no formal diesel version of this CAC bus, but that did not stop some operators having diesels fitted. One curved screen that went to Campbell's in Adelaide in Aug 1958 (M35-122) was fitted with a Bedford diesel on 1960, before it was sold to Carter in Victoria (it later passed to Ventura upon the sale of Carter in 1964 and became Ventura No 58). My suspicion is that GMH arranged for the SB1 engine to be fitted as a "trial". But, it's only a theory. Here is the bus while at Carter's: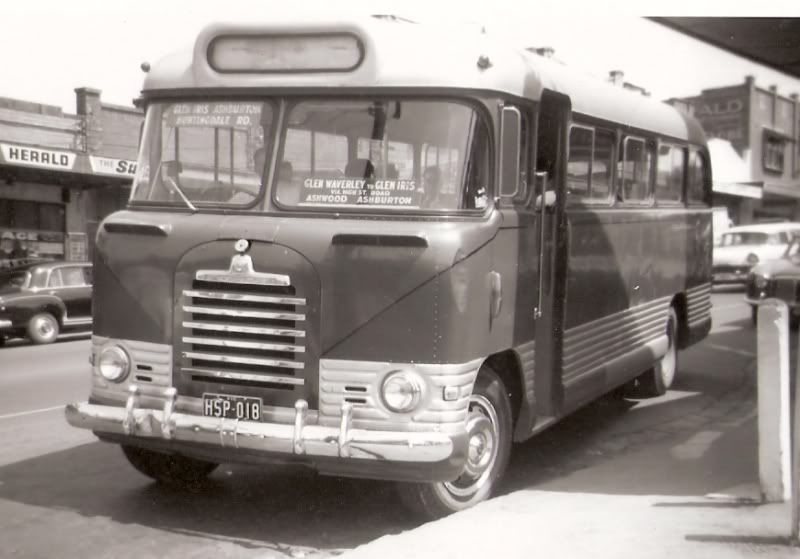 Production of the curved screen continued until October 1960, but at the same time a completely new design was being developed and was preparing to take over - the first Comair. The last curved screen off the production line was sold to Brien's Comfort Coaches. It is pictured here in Flinders Street, behind another Brien's curved screen: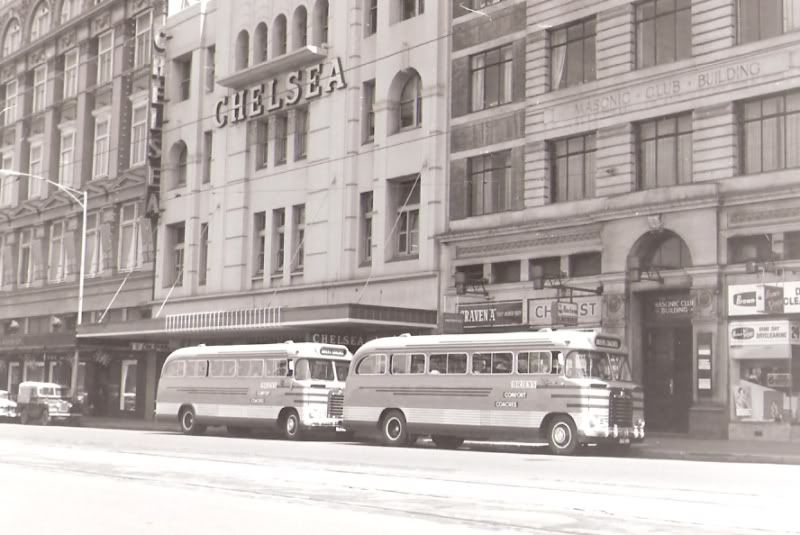 Just what is pleasing to the eye for one person and not another will be debated forever and a day. I would have to say, that I have regarded the curved screen CAC SB3 as one of the most attractive buses produced. We do some silly things as enthusiasts, and I am no exception. As a boy, I would wait for flat screens to pass by in order to catch a curved screen, or even better, for an OB to turn up. No doubt, there are others who loved the flat screen just as much.
Vive la Difference
!
Finally, Gary Driver has beautifully restored one example of this bus. Here are some pics: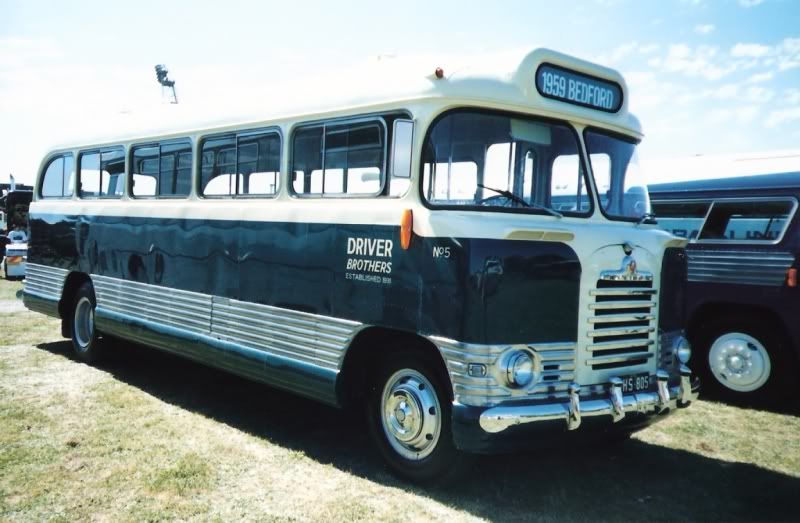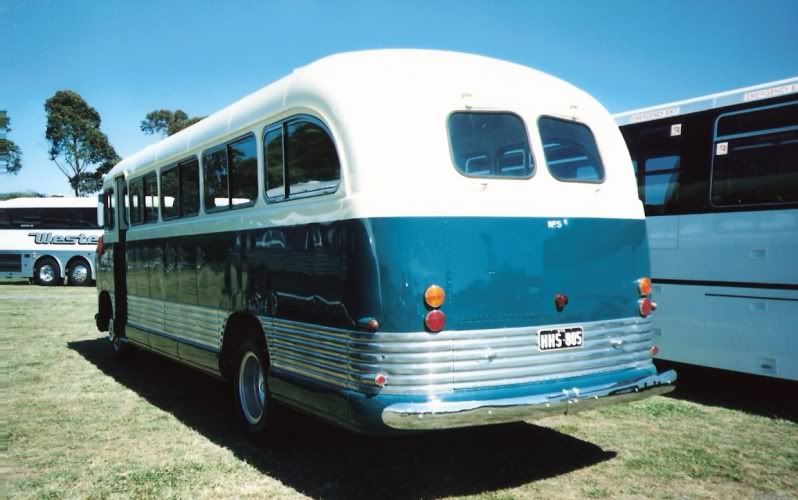 The last two photographs were taken by me. Photos 1 and 5 come from the Graeme Turnbull Collection, the rest come from the John Masterton Collection with pics 2, 3 and 6 taken by Bruce Tilley, pic 4 being an official CAC picture, pic 7 taken by J Curran and pic 8 taken by JM.