Before beginning a pictorial history of the CAC bus, it is important to establish a brief history of the company and describe its place in the (mainly) aviation industry in Australia. Rather than have just a lot of text then pictures, I have decided to intersperse this history with the pictures. Part 1 of this history focuses on the OB.
Commonwealth Aircraft Corporation Pty Ltd (CAC) was registered as a company on October 16 1936. Despite its name, it was always a 100% privately owned company and had to get approval from the federal government before using the word "Commonwealth" in the company name. It was a Melbourne company through and through, established by other Melbourne owned and controlled companies, which probably explains the rather unusual granting of naming permission referred to above. At the time, a number of senior figures in the (then) Lyons Government came from Victoria, including Robert Menzies who was Minister for Industry.
In 1935, a group of Melbourne businessmen had determined that there was soon to be a European war and that Australia was ill prepared in terms of its aviation manufacturing industry (only de Havilland existed in Australia at that time, in Sydney). They foresaw that the Government would establish a government owned company unless the private sector moved first. It was both a patriotic and business opportunity. As it turned out, after war broke out and despite the establishing of CAC, the government did indeed establish its own manufacturing arm through the Department of Aircraft Production in 1941, renamed the Government Aircraft Factory in 1946.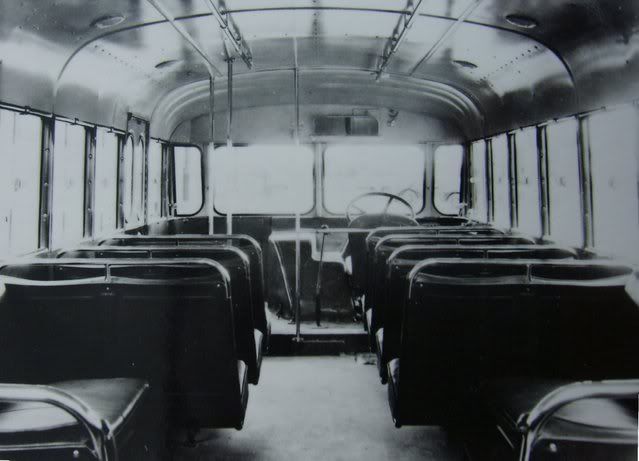 CAC was formed with capital from 6 large companies; BHP (33.34%), Broken Hill Associated Smelter (25%), Imperial Chemicals Industries (ICI) (15%), GMH (10%), Electrolytic Zinc Company (8.33%) and Orient Steam Navigation Company (8.33%). Throughout its history, CAC was principally concerned with the construction of aircraft. However, after the war ended in 1945, there was concern that there would be a loss of some technical skills and other business opportunities were sought. In 1946, GMH (itself a shareholder in CAC) and which occupied a site close to the Fisherman's Bend site of CAC, approached CAC with a proposal to build bodies on a Bedford chassis to be provided by GMH.
GMH had built bus bodies themselves for a brief period after the war, mainly on the Chevrolet NC lend lease chassis. However, with the planning for the Holden car under way, they preferred to have a separate body builder for the buses. Initial orders were for 114 bodies which were increased to 250, then 414 then to over 600 by mid 1948. More than 900 bodies were eventually constructed on the Bedford OB chassis.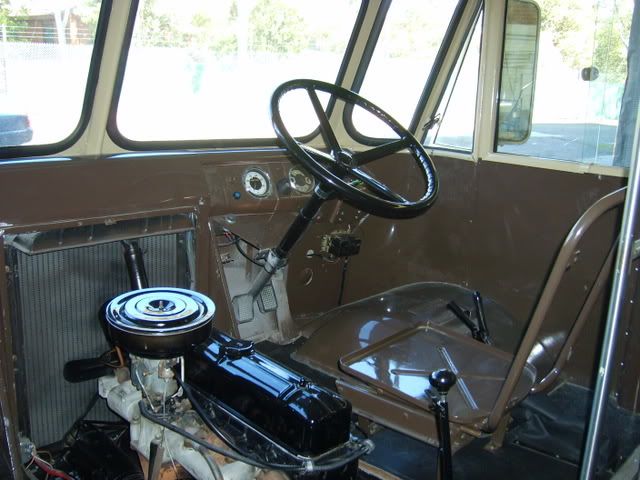 The Bedford OB chassis was first built in 1939, but the war interrupted its production. After the war, production was in full swing. Currency restrictions in those days meant we could only import material from those countries with which we have a trading surplus – we sent Britain our butter, they sent us their Bedfords! In retrospect, the peculiar thing about the CAC OB was that it was forward control (FC). More than 16,000 OBs or OWBs (the war time version) were bodied in Britain and almost all of them were normal control or bonneted. Most Bedfords bodied in Australia at the time, like other light to medium chassis, were also bonneted. Just how, and by whom, it was decided to build this type of bus to the FC style is unknown by me, but it turned out to be prescient.
Below, is a normal control OB with a Grummet body from 1949: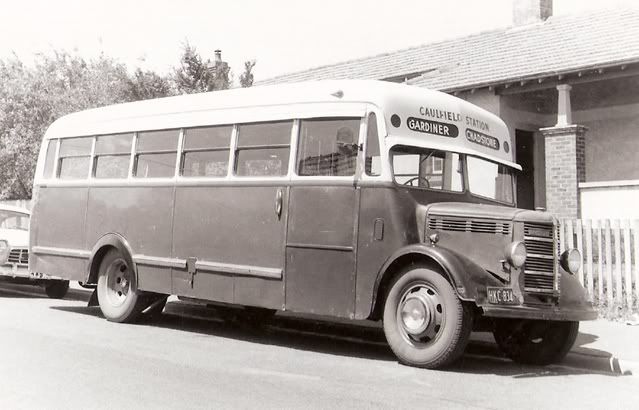 The CAC/OB was offered in four variants: A short wheelbase 23 passenger bus, a 174 inch (442cm) wheelbase 27 passenger bus, a 201 inch (511cm) wheelbase 33 passenger bus and a two door version of this last design. Delivery lists have never surfaced for these vehicles, but while only a handful of the 23 seaters were made but roughly 300 of each of the other variants were made. These were production line vehicles with little opportunity for operator requests. In fact, really the only options were painting and the fitting of a jack knife door. The first was on the road in early '47 and the last was produced in late '51.
Below, the 23 passenger :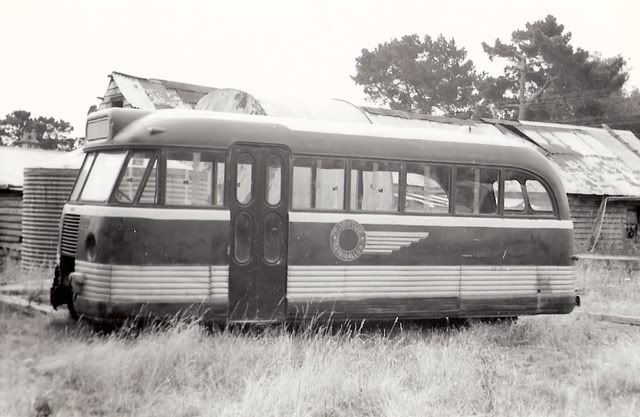 The 27 passenger: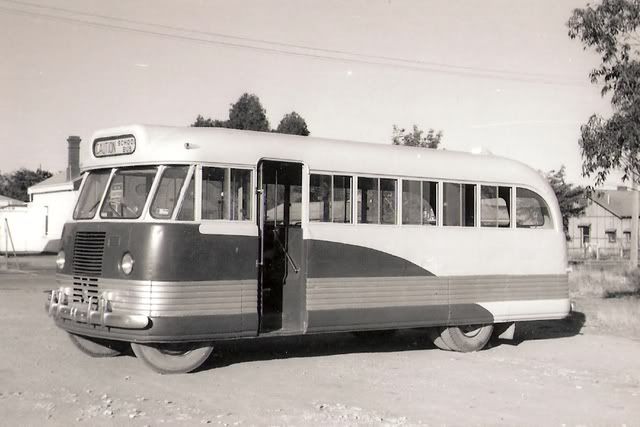 The 33 passenger:
The 31 passenger: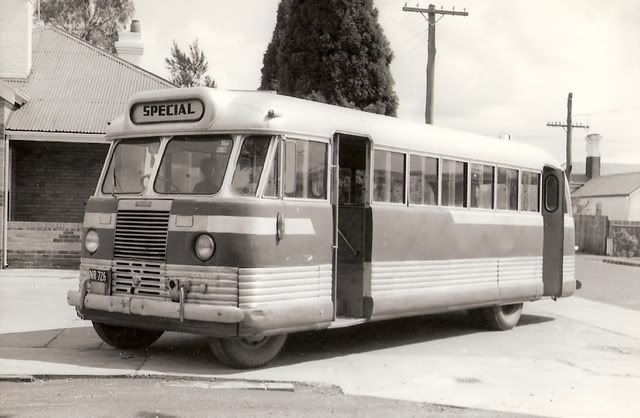 The 31 and 33 passenger versions had larger wheels and tyres than the other two versions and so stood higher off the ground making them look 'bigger" in all ways, as can be seen in this photo with the 27 passenger version of the left and the 33 passenger version on the right ( a normal control Bedford is also in the picture along with a Dodge):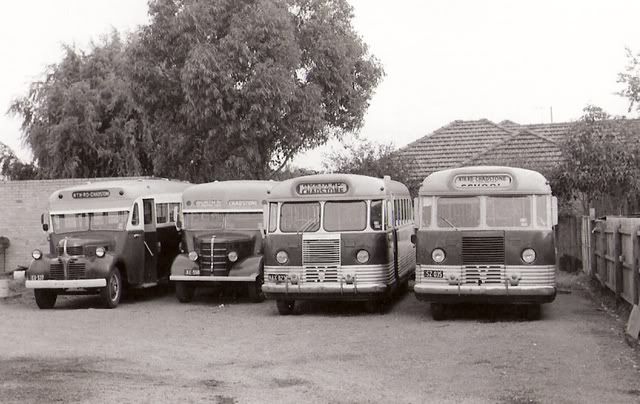 In the prepartion of this history, I have relied on the work,
Wirraway to Hornet
by Brian L Hill. The photographs come from the BCSV archives, the John Masterton Collection (John M, Bruce Tilley and Geoff Mann photos) and the Graeme Turnbull Collection.