Bonds Tours dates from 1910 (Bert Bond with his father George). To say that they trailblazed would be a classic understatement. They did tours and ran express services throughout the south east of Australia in the most trying of circumstances - roads and weather, in particular. My first encounter with them was in a little more civilised terrain (just!) - Adelaide.
After my sister won " An all expenses paid bus trip for two from Melbourne to Adelaide" in 1962 on the Tarax Show on Channel 9 (prizes seem to have improved a bit since then), and since my sister hated buses and I had the opposite emotion towards them, my mother and myself (aged 11) set out for Adelaide in May 1963 (my mum always said that we travelled on every bus in Adelaide whilst we were there, but I have since learned that we missed two in Elizabeth). We travelled Pioneer Express (Flxible Clipper, a beautiful trip) and stayed at the Grosvenor Hotel in North Terrace, just opposite the railway station. Could it get any better? Well, yes. The tourist bureau was just next door and Bonds operated the day tour to Victor Harbour. We took the trip and the bus was not like anything I had ever seen before, the reason why, I was only to find out years later - Bonds made their own buses! I vividly remember the door operating lever was in the floor to the right of the driver.
These pictures were taken by Bruce Tilley and John Masterton, from the JM Collection, a little after my visit but capture the unique style of Bonds in the 60s:
The first shot is an International chassis with Perkins engine:
This time a Morris BMC Diesel, photographed on tour in Dandenong: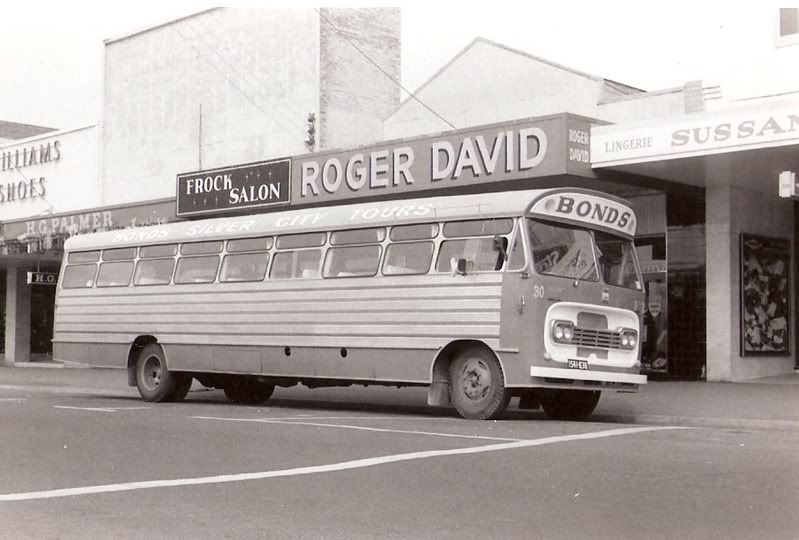 This is a Bedford VAM5 (maybe a converted SB5) new in 1966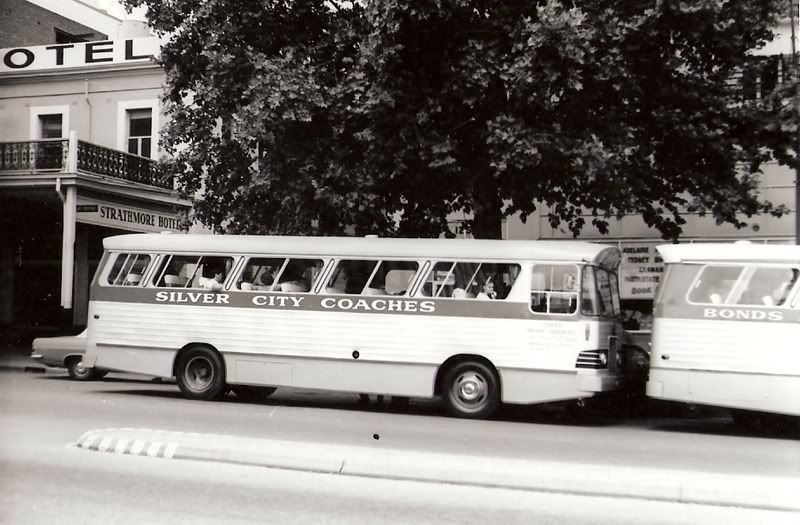 Next, another Inter Diesel (the fare is written on the side on the bus, looks like single £2.0.0 (that's two pounds no shillings and no pence, or $4) and return £3.15.0 ($7.50):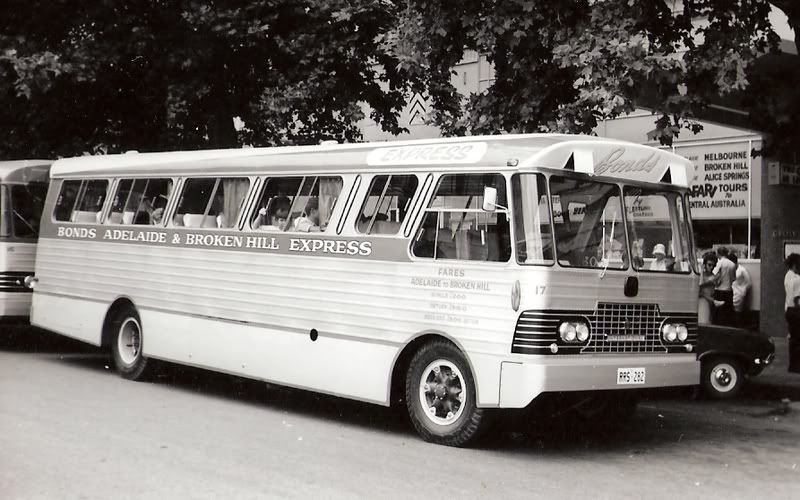 And, an Inter C1800, with what looks like the fare in decimal currency, which came in, "On the 14th of February 1966!":
And finally, the bonus. Here are two shots from an actual tour undertaken by Bill Kingsley in 1948, the first
on route
to Sydney from Melbourne at Cann River and, the second, in Sydney. Two different buses, the second a relatively new Inter KB6: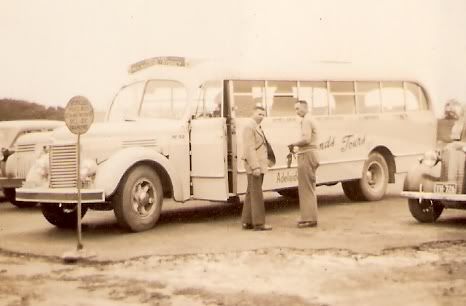 Comments, additions, corrections and further history of Bonds welcomed.