It is probably true to say that there are at least three types of bus & coach pictures: Brand new (rare), in depot shots (common) and in service shots (even more common). Each has its merits. However, it will come as no surprise to board members with a sharp eye that I am rather partial to brand new shots. As a youngster, I loved spotting a brand new bus and taking one of the first trips on it (unfortunately, I was
sans
camera in those days). Paradoxically, I also loved the oldest vehicles at the time, maybe because they were on the way out and becoming less noticeable. Of course, this left common or garden buses in a difficult position and they were often taken for granted, until (perhaps) it was too late.
Anyway, the John Masterton Collection contains a number of Freighter bodied vehicles that must have been snapped when new and probably before delivery. Just when, and how and from whom John acquired these photographs I do not know. I assume that they are "Official" Freighter photographs and, as such, may exist in many collections. There is no notation on the photographs as to who is the actual photographer, I dare say that companies had their own favourite studio which they used for many years. Some very large organisations were able to employ a full time photographer, like the MMTB, but most often it was simply a neighbouring outside studio that was called in whenever a new bus was completed, if the photo was taken on behalf of the manufacturer, or delivered, if the photo was taken on behalf of the purchaser.
So here are the first two from the series - two buses delivered to Bridgland's and both Classic designs (in my opinion).
The first is their No 3, an Albion Aberdonian, reg SA 13.686, from 1958. The colour scheme is cream with a red band lined with white. Everything seems to be "in proportion" in this classic design.
And now their No 12, a Commer/CMV (Commercial Motor Vehicles of Adelaide ) which was a modified Commer Avenger HD 510 chassis with a TS.3 diesel engine, reg 16.504 from 1960. It came to Melbourne on interstate trips. Another classic design.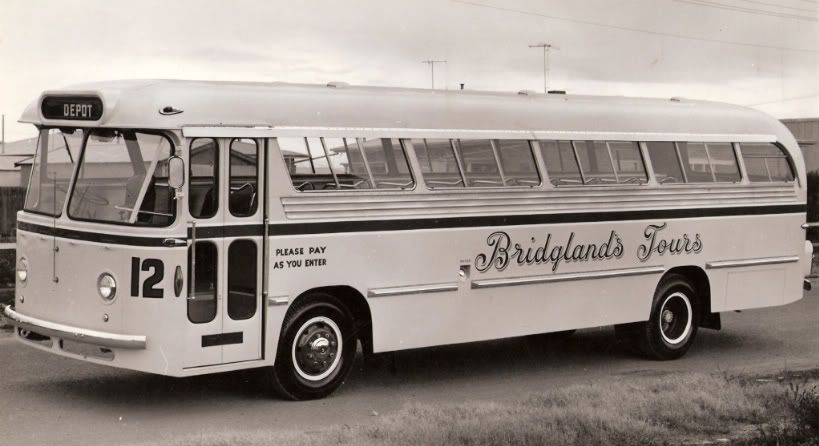 Both vehicles were acquired by the STA in 1974. Once again, I would welcome any additional information or corrections on these vehicles.