As noted earlier this morning by Paul Nicholson on the Victorian Board, today marks the 40th Anniversary of the first organised tour of bus enthusiasts in Victoria (27/7/68). Two more tours were organised latter in 1968, culminating in the formation, in December 1968, of the Bus and Coach Society of Victoria. As mentioned in Paul's post, John Masterton and Bruce Tilley were co organisers with Paul, and Bruce and Paul took the following photographs on the day. They come from the (late) John Masterton collection.
The two vehicles used for the tour were from Nuline Bus Service. They were Federals fitted with the Ansair Metro style body. Both were originally powered by petrol engines, and saw brief service on the Hartwell to Toorak tram terminus route. They were then operated by Jenner's Milk Transport (subsequently Murrumbeena Bus Lines) before being sold to Mr Spence at Nuline on 12/4/54. Number 6 (left) NW 436, was built 9/49 and was re-powered with a Perkins diesel to enable it to work 18 hour shifts. It was sold soon after the tour to become a caravan (27/9/68). Number 7, NA 684, was built 4/49 and always retained its petrol engine and was used as a standby vehicle. It was acquired by the BCSV on 31/12/69 but has had various owners since. It is still preserved.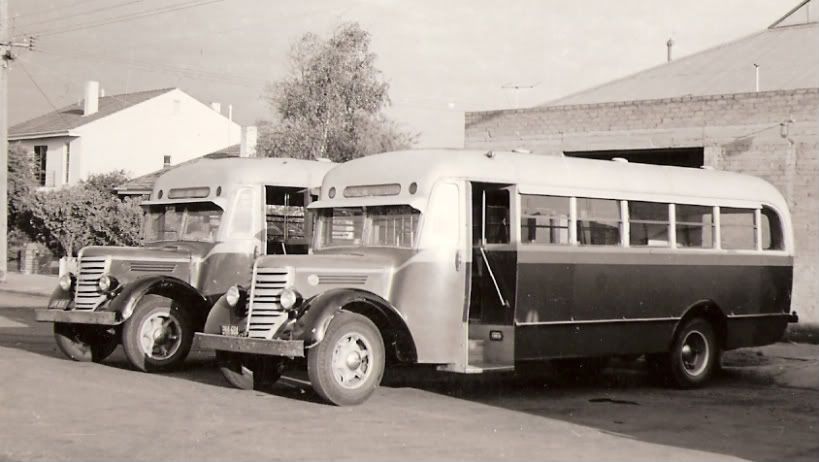 Here is Number 6 at the Park Street, Middle Brighton terminus. Two Melbourne and Brighton Bus Lines vehicles are also at the terminus. On the left is No. 77, JNE 077, a Freighter Leyland RTC new 24/6/66 and on the right, No. 66, HXJ 066, a Comair Leyland RTC new 9/12/63.
This photo is taken at the Hampton Bus Terminal. Along with Number 6 are pictured one of Hampton Red's Piper re bodied Fodens HLA 042, (new 12/49, re-bodied 9/61) and a Hampton Green Ansair Transett , SA 481 (new in 1950).
Here is Number 6 passing under the rail bridge at Durrant Street, North Brighton. The Tait train also pictured is heading towards Sandringham.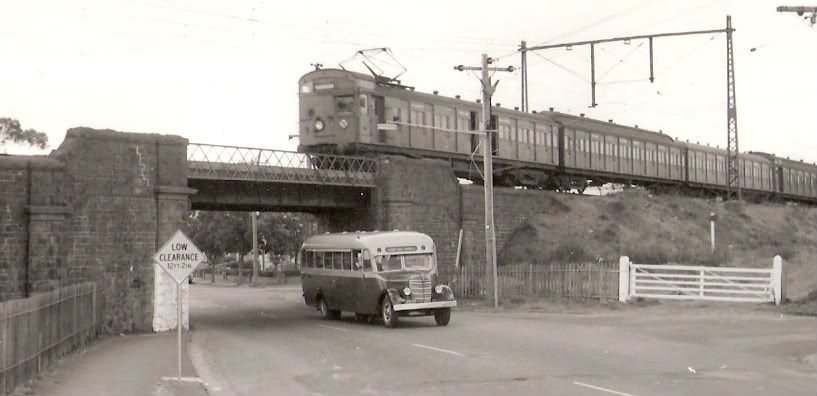 And finally, the first group photo on a bus enthusiasts' tour in Victoria at the Moorabbin Bus Terminal at Moorabbin Station - a tradition that continues.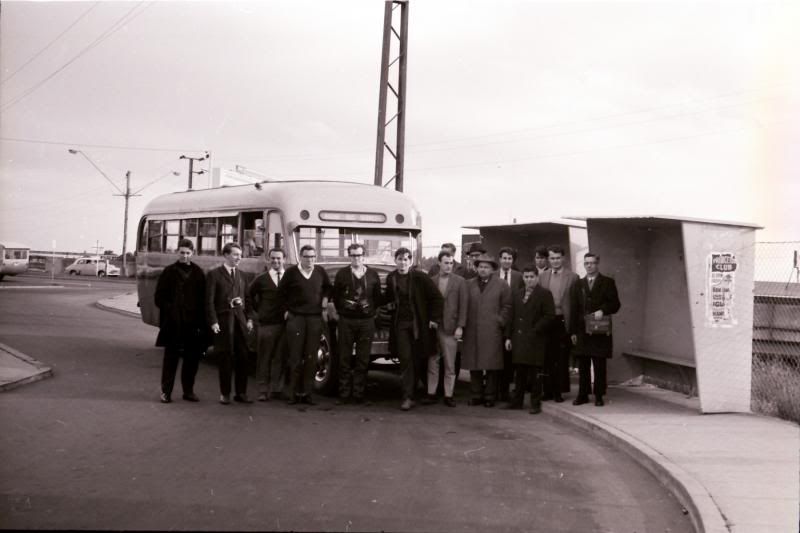 Thank you to all who have been involved over the last forty years!