I'm not sure how many Fodens (with Gardner diesel engines) arrived in Australia, but five of them ended up at Hampton Red in Melbourne. Hampton Red (owned by Mr Peeler), so called to distinguish it from Hampton Green, two metro bus routes emanating from Hampton Railway Station, first acquired a Foden in 1951 for their charter work. These photographs come from the John Masterton Collection and were taken by him (JM) or Bruce Tilley (BT) as noted.
Here are four of the five lined up at the Bluff Road Depot in 1968 (BT):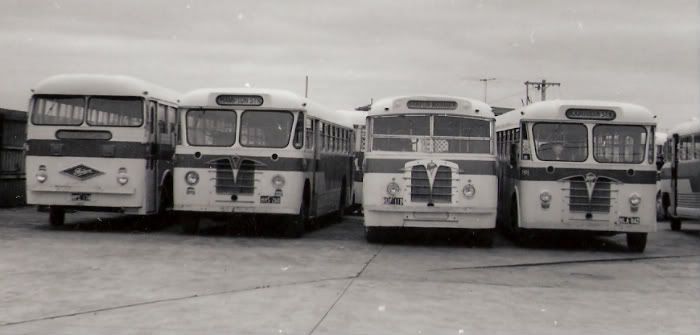 Here is UV 811, reg 5/51 seen in 1954 as part of the contingent of buses for the Queen's first visit. It was bodied by Symons & Fowler (JM):
The same vehicle was re-registered HLC 128 in 9/61, but in 11/63 was rebodied by Cheetham & Borwick, pictured here in 1964 (BT):
Perhaps more famously, two ex Murray Valley Coaches Viewmasters were rebodied for Hampton Red by R V Piper in 1961. The first was HHS 260 reg 2/61, pictured here at Princes Park in 1963 (JM) :
The second was HLA 042, reg 9/61 (JM):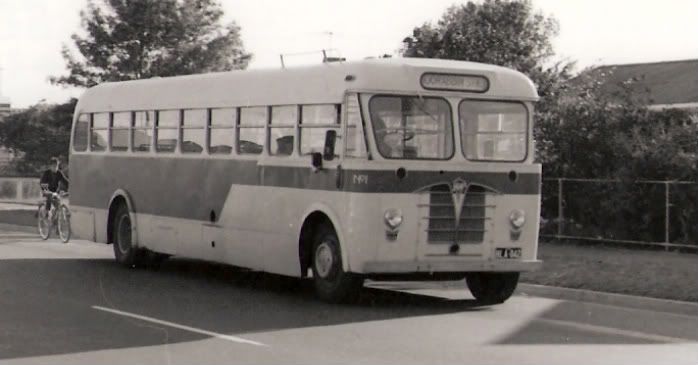 Two other Fodens were acquired by Hampton Red, both from Martin's of Albury. The first was a rear engined version with an MBA body, new in 3/56 and registered to Hampton Red in 8/62. It is pictured here at Princes Park soon after acquisition in 1962 (JM):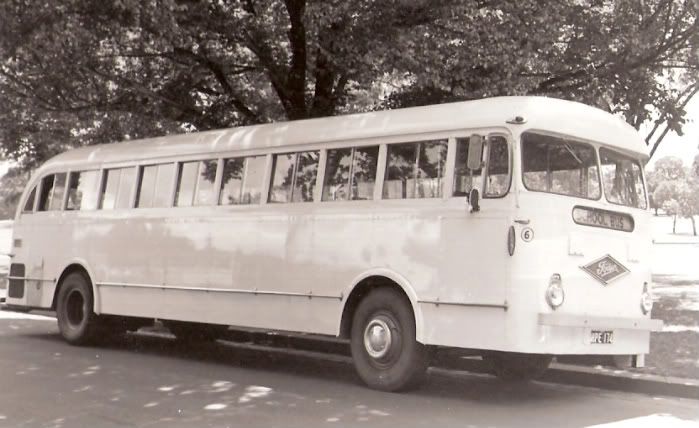 The second was HUF 110, new in 7/48 with a Symons & Fowler body, registered to Hampton Red in 5/63, pictured here in 1964 (BT):
The livery was changed from red with cream to cream with red in 1966. Most of these Fodens worked into the early 70s and I can remember seeing them on my trips to the beach at Sandringham in the 60s. They were "beasty buses" indeed.